Sept. 30, 2019 – Strawberry Mansion High School is a public high school in North Central Philadelphia and is one of the more than 340 schools in the Philadelphia School District. With an enrollment in excess of 200,000, the district is one of the ten largest in the country.
The school is heated by steam boilers and in late 2018 the district decided to replace its aging boiler feed system. Engineers from ICS Consulting and B.J. Terroni determined a boiler feed unit consisting of a 1,000 gallon stainless steel receiver tank, 5 condensate pumps and a control panel was needed. A site visit by B.J. Terroni personnel early in the design phase uncovered a potential problem with the below ground mechanical room. The only access to get the new equipment into the mechanical room was a horizontal "hatch" measuring 78" x 78". The floor of the mechanical room was about 26 feet below. Getting the new boiler feed unit in was not going to be easy.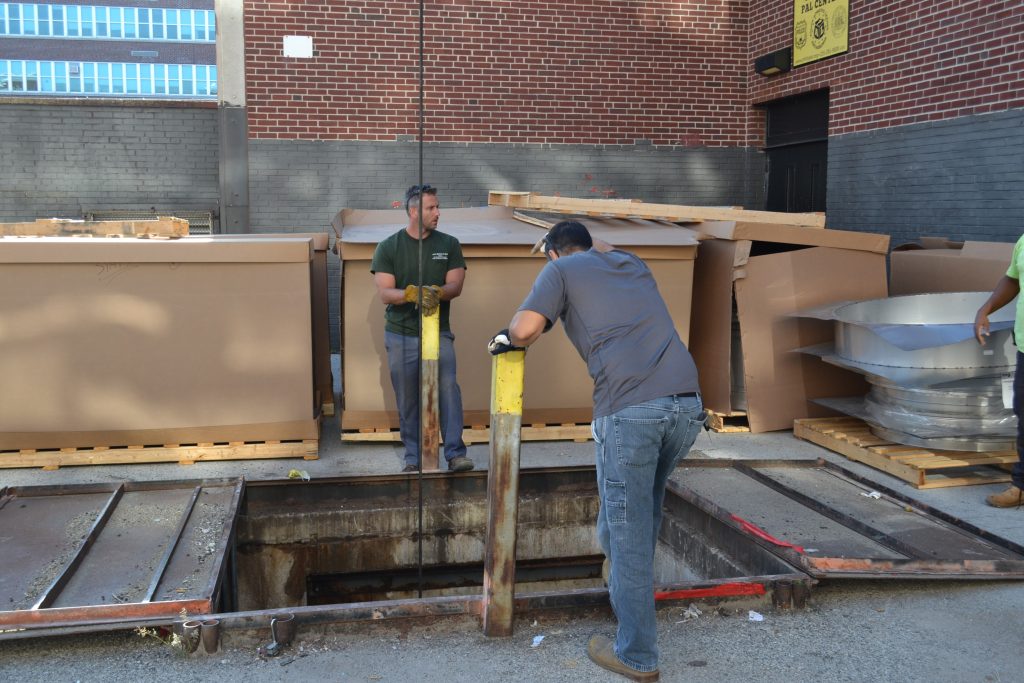 78" x 78" access hatch to mechanical room 26' below
A typical 1,000 gallon cylindrical stainless steel tank measures 48" in diameter and 132" in length. Dimensions increase further once 5 condensate pumps, piping and controls are mounted to make a factory packaged unit. When the potential problem with access was realized, B.J. Terroni reached out to Skidmore to discuss possible solutions.
Skidmore has a long history of customizing its products to fit the needs of its customers and BJ Terroni knows that well since they have been a Skidmore rep for 35 years. During their discussion, it was determined that lifting lugs could be installed on one end of the tank so it could be lowered end first through the horizontal access hatch and into the mechanical room. Skidmore engineers determined the best size and configuration of the lifting lugs to ensure the safety of the personnel involved with moving the unit into place.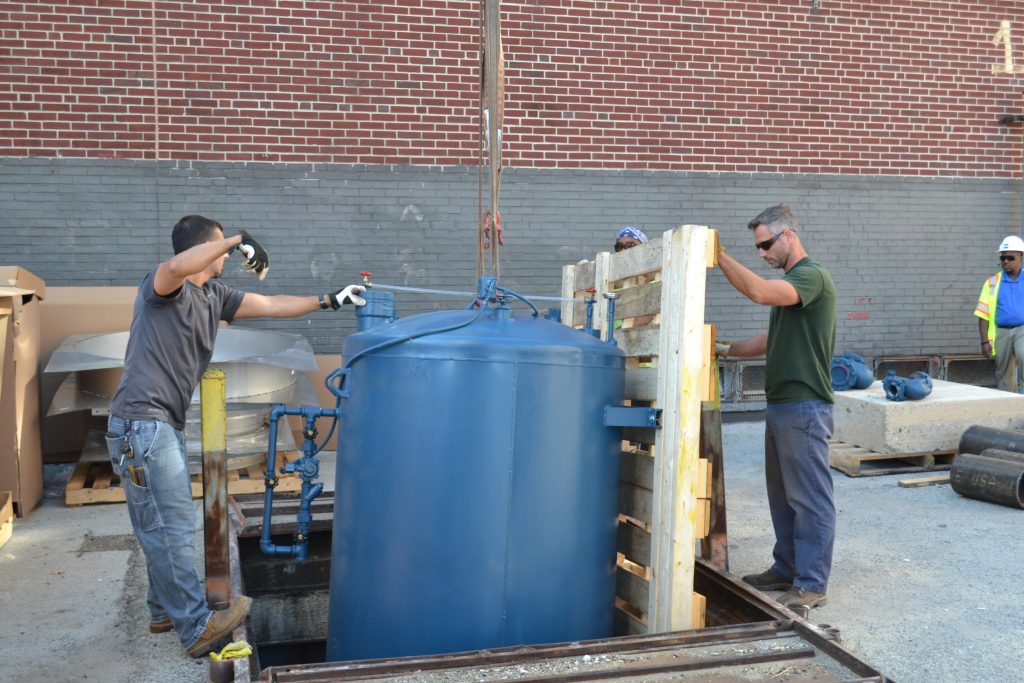 Boiler feed unit being guided gently into the mechanical room
Weeks later, a large crane stood poised at the school as the boiler feed unit arrived from the factory on the back of a flatbed truck. As planned, the crane slowly lowered the unit through the narrow hatch. After touching down in the mechanical room, hand-operated winches (come-alongs) were employed to help maneuver it safely into position.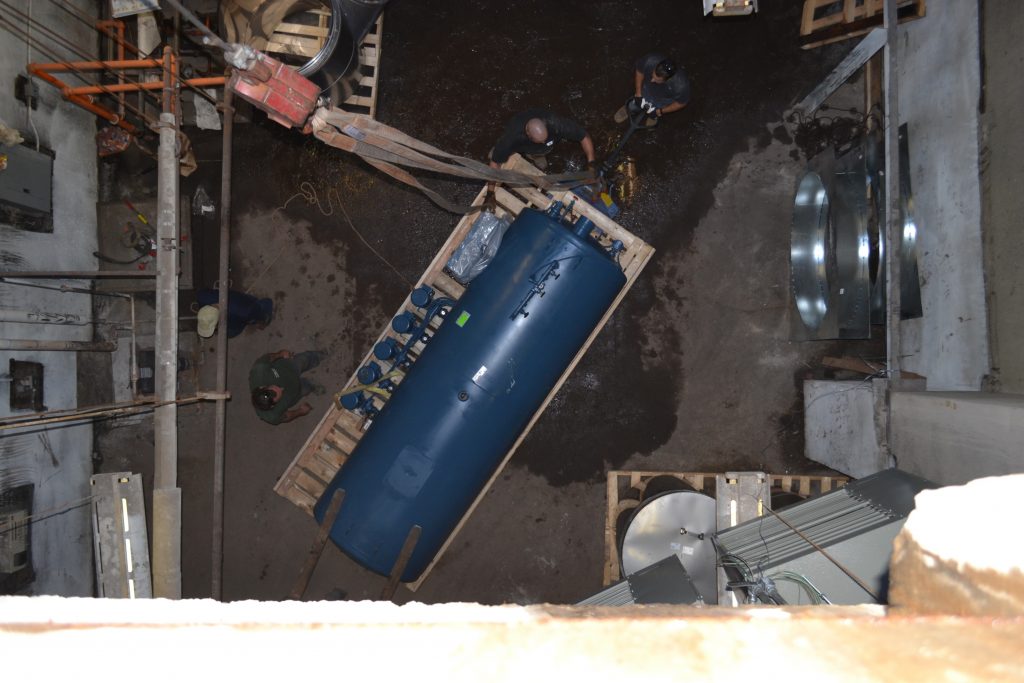 Success!
As business partners for over three decades, B.J. Terroni and Skidmore understand that some projects have unique requirements that require clever solutions. Please contact Skidmore for assistance on your next project.
Project Name:
Strawberry Mansion High School
3133 Ridge Ave.
Philadelphia, PA 19132
Property Owner:
Philadelphia Public School District
Mechanical Engineer:
Gene Alligood
ICS Consulting
Media, PA
Office Tel: 215-479-3543
Skidmore Representative:
B.J. Terroni Co., Inc.
3190 Tucker Road
Bensalem, PA 19020
Office Tel: 215-639-3600
Photo credit: Walter Hackett – B.J. Terroni